Truck Lettering in Charlotte, NC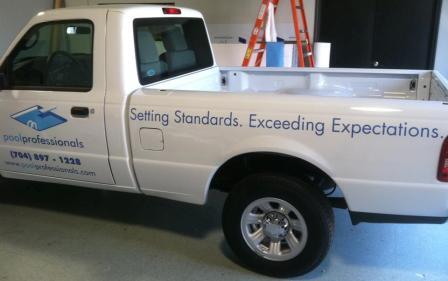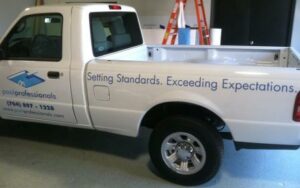 How many people see your company truck every day? We can turn your truck into a rolling billboard. The Blue Roots team specializes in contractor truck lettering, dually lettering and trailer lettering. Your marketing reach is increased even more when you put truck lettering on your entire fleet. We get asked every week "How much will it cost to letter my truck"? There are several things we need to know to answer that but as a rule of thumb if you are lettering the doors, bed side & tail gate of an F 150 the cost ranges from $350 – $750 (depends on truck lettering size).
We are your truck lettering specialist that delivers high quality and resolution vehicle lettering including vehicle vinyl lettering, trailer lettering, and van wrap marketing in Charlotte NC.
So you're ready to design your truck lettering. Don't just put your company logo on the side of the vehicle with a phone number and call it a day. There are 3 things that every truck lettering design should include. Let the Blue Roots team create a custom truck lettering, track wrap, dually lettering layout that makes you stand apart from all other company trucks. When you do the math there isn't any type of marketing that has a lower cost per impression. One Charlotte service truck with effective vehicle lettering could generate millions of customer impressions over the course of a year. Get your company noticed in the areas you service the most.
Contact us today for a truck lettering estimate. 704 678 1784