Blue Roots marketing has high-quality engraved signs for any occasion and any budget.
Here are the key points to know about custom Engraved Signs:
Custom engraved plaques demonstrate your appreciation to an individual or organization for their contributions and accomplishments.
Our engraved plaques and signs transform ordinary directory and office signage into sophisticated branded signage.
Our engraved plaque products come in a variety of materials to fit your tastes; including metal, acrylic and wood.
Our signage materials can be mounted together to provide a unique look.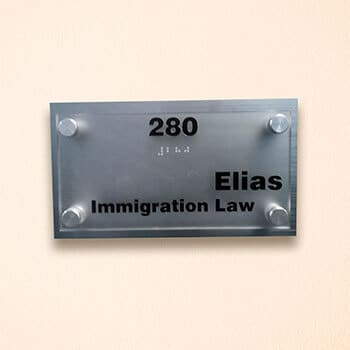 As an example, mounting metal on clear acrylic or metal on wood gives the plaque depth and sophistication.
Customers seeking engraved awards, plaques and signs are not limited to just text.
Our advanced digital laser engraving technology allows clients to include custom brand logos and images on their signage.
Simply provide the artwork and we will take care of the rest!
Custom engraved plaques are the perfect solution for:
ADA Signage
Building dedications
Directories
Employee of the month
Sports teams
Office & Reception Signs
Patents and Trademarks
Philanthropy Recognition
Sales performance awards