Door Hanger Delivery, Flyer Distribution, and Advertising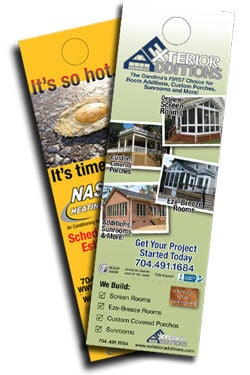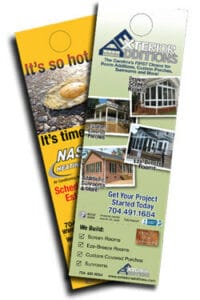 Blue Roots Marketing has developed an efficient door to door, door hanger/flyer marketing process that will reach nearly 90% of your door hanger target area. We specialize in flyer distribution and door hanger marketing in Charlotte, NC and surrounding areas. We offer door hanging, sample product distribution, flyer distribution, and over sized unique marketing piece deployment.
We also design and print door hangers, magnets, bags, and novelty pieces to place on your consumers door.
We will saturate any Charlotte NC neighborhood, town home, or apartment complex with your company's materials. Call or email with a target NC zip code / codes, the type of piece you would like delivered, the number of pieces, and date of distribution. We will also door hang all ready printed materials for you, just let us know the quantity, size and where you would like them distributed for pricing.
Door Hanging Delivery System
Blue Roots Marketing door hanging delivery system is designed to efficiently reach your target market in a unique way. When is the last time you received a door hanger at home and how many do you get per year? Most folks rarely get door hangers. That's not because door hanger marketing doesn't work. It's because there are few companies who offer local NC door hanging services.
Our deployment method can be as broad (targeting an entire zip code) or as targeted (job site door hanger marketing) as you would like. We door hang to households of your choice, geographically by zip code, or a radius around your location. For door hanger print and distributions pricing, follow the link below to reach out to our team today.
Job Site Door Hanger Delivery Charlotte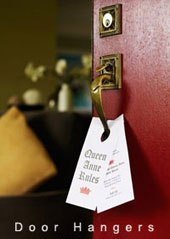 We get many contractors that call and ask "what is a low cost marketing solutions that will generate leads". That's an easy one to answer get more referrals. We're sure it's no surprise to you that referral leads convert at a much higher rate than most other lead sources.
So why not advertise to homes around your current job site.
Let us print a door hanger specific to your home improvement specialty and then get your crews to distribute them each week. We know what some of you are thinking "that's a good idea but there is no way my crews will put that out every day"! Those door hangers will end up in the trash can. That's where our Charlotte NC job site door hanger campaign can help. Provide our job site door hanger crew with your project locations each week and we will consistently deliver your piece and generate leads.
Some of the areas we perform door to door distribution services are:
Ballantyne, NC Door to Door Marketing Zone
University Area Door to Door Marketing Zone
Northlake Mall Area Door to Door Marketing Zone
Gastonia Apartments Door to Door Marketing Zone
South Charlotte Apartments Door to Door Marketing Zone
Charlotte Contractor Job Site Door to Door Marketing Zone
Raleigh, NC door hanger flyer Marketing Zone